SHOPPING TEMPTATIONS: Glimpses of some of the products on sale at the Thailand Exhibition in Panaji….medicinal pain oils and balms, mango wood artifects, bed covers, Afghani dry fruit, furniture and more.
By Tara Narayan
TO grow old is bad enough but to grow old to be sick and sicker is a punishment like no other! This is to say it was a pretty nasty cold and cough infection I'd picked up somewhere along the way of all my prowling around places looking for interesting food to eat. What interesting food! I got annoyed with myself these days because no matter where one goes, upmarket or downmarket, food doesn't do much by way of inspiration to live, or die either! To die is more often like it…as in the latest case eat this greasy fatso puri with indifferent garam masala loaded aloo bhaji and die.
Where? I won't tell you. I have been looking for an honest old-fashioned puri in the various eateries of capital city Panaji. Nostalgically, during my Bombay years, when I wanted to savour the best puri-aloo bhaji I'd go to this place near the GPO area near Victoria Terminus railway station, called Pancham Puriwallah — where many of us working people used to go just so savour real puri-aloo bhaji. Pancham Puriwallah (is it still around) was famous for just that. The puri came hot and lightly puffy and made of 100% atta (wholewheat flour) and the aloo bhaji redolent of divine UP flavors…a dash of cut onion on the side. Cut onion fine or not so fine is a perfect taste giver to such humble working class people's meals, also tukda lemon piece and a green chilly if that's how you liked it. It's amazing how some eaters can crunch into a green chilly without flinching.
In the old days even the Udipi eateries offered some very decent puri-aloo bhaji with a little container of finely chopped onion, lemon tukda and green chilli. I consider the Udipi and Irani eateries of Bombay that is Mumbai now as salt of the earth eateries for working people and how much I lived in and off them on my miserable scribe's salaries then1
Anyway this is to say some 50 years later that I can't find the perfectly deep-fried 100% whole wheat flour puri upmarket or downmarket in capital city Panaji! Of course once upon a time I used to make perfect puri at home, also crusty masala puri. In fact, when visitors were expected, my mother would put me in charge of all the puri making….those days are gone.
And now at life's end years if once in a way I buy some puri-aloo bhaji home from any of the Goan restaurants be it Café Real (the best of the lot) or somewhere else, I find whoever has fried the puri has fried it either in oil not hot enough or in oil too hot and so quickly that one arrives at an obnoxiously indifferent ugly puri — kacha inside, burnt outside; by the time I get home they're flat and chewy (meaning more maida than atta)…puri one makes at home are delicious eaten even when cold in the evening dipped in a hot cup of tea! The oil is of course drained off very well in the deep-frying. Well, too bad!
PUNJABI bhatura I find is available in plenty in most eateries with pretensions of being north Indian in its catering, the puffy white leavened maida bhatura (large puri of sorts) and chole (chickpea gravy) is a popular combo order in say places like the vintage Sher-E-Punjab still going strong down 18 June Road. But it's the variety of tandoori roti here at Sher-E-Punjab which are to live for most times on a good day! By that I mean it all depends on who the cook is who's made the roti for you that day… if you're lucky the missi roti laced with ghee will be crustily delicious as the makki-di-roti (with or without sarson-da-saag) or the perfect austerely plain tandoori roti which I do appreciate when nicely done.
Roti must be rolled not to thick and not too thin but just so to be crispy without, soft but cooked within. Sometimes it is great to just eat up a missi roti (Rs60, basically a gram floour or besan roti) with the pinkish vinegary onions they still serve here…and they do the best portion of "dahi bhalla" (Rs220) in town, which I have taken to buying home, although the thick curd (dahi) tends to be cloyingly over sweetish. A variety of paratha and other tempting item numbers are on the menu at Sher-e-Punjab, an old favourite of mine and also the hubby's. (Don't forget to look at the pioneering old menu of the 90s framed and put on exhibit at the entrance of the restaurant and compare prices then and now!)
Punjabi food can be very heavy on the stomach and I must mention they have quite an array of sweets here in which they take pride in, they range from firni to rabri to gulab jamun to gajar-ka-halva and caramel custard. If one has a mind to in a sweet mood one may just make a meal of the sweets of the day alone! Not me, I can't stand sweet something anymore. The only sweet I love is the tangy sweetness of dried amber apricots from Ladakh, hard to find, very hard to find and worth their weight in gold.
EVEN at the Afghani dry fruit stall at the recent Thailand Shopping Festival in town Panaji I couldn't see them. The usual walnuts, various variety of almonds, figs, cranberries, blueberries, cherries, etc, were on sale …walnuts at Rs2,000 to Rs2,500 kg, almonds Rs800 kg, raisins Rs1,600 kg and one had to buy a minimum of quarter kg or take a walk! I find some of the dry fruit doing the rounds in various such travelling shopping festivals, and if you look closer, you may see black dots of creepy crawlies in the dry fruit.
I usually go for the Thai Wongpitak herbal pain balms and essential oils, but this time even the wonderful "Pain Killer Herbal Oil" was going for Rs700 and at that runaway inflationary pricing I decided to forgo it; but I couldn't resist a couple of wrist "badraksha" (like rudraksha but smoother beads) mala (Rs100), bought one more for a friend. Warm thick glossy smooth wooden beads, lovely feel. These days I'm seeking peace of mind in what I think is Buddhist-styled meditation, don't laugh.
There was other good stuff to buy for deep pockets including elegant clothes, furniture and sofa sets, exquisite bed linen, all kinds of knick knacks by way of hair adornments – the Korean clips are superlatively good. Entry fee was Rs20 and a bit steep, unwarranted or so I thought!
CHARMS OF CHIBUD!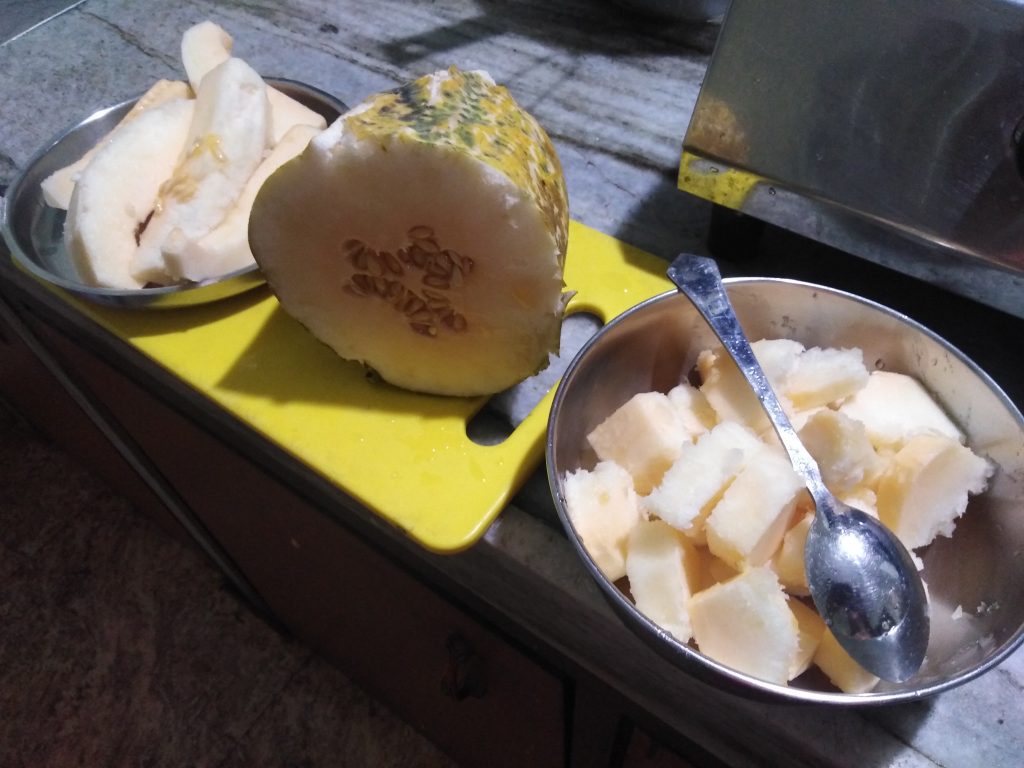 MY morning visits to the early morning Panaji market pavement vendors are fewer these days but in a recent trip my friend Jonquita was happy to sell me "cheap" this lovely looking musk melon called "chibud" – attractively striped outside, palely light peach within. It's an utterly tasteless fruit or so absolutely bland! To make it come alive one has dice the musk melon and toss in lots of lemon juice and honey…then it's a chilled agreeable fruit serving. Try pinches of rock pink salt, black pepper, lemon juice and honey if you wish for more flavours…Jonquita said its "devacha phal", meaning it's a fruit the gods love! Chibud, anyone? A exquisitely looking bland icy pale pink musk melon? Children slurp it up when mashed up with sugar and served as a cold refresher…except that sugar is a no no, just makes one thirsty and doesn't quench thirst at all on a hot day. To check out the truth of my words.