PERNEM DEFEAT: Though the BJP won four urban seats in Mormugao, it lost rural Pernem despite having a strong candidate in veteran Rajendra Arlekar
Despite making a show of promoting populist schemes like Laadli Laxmi and Griha Aadhar, the Bharatiya Janata Party failed to deliver on basic needs like drinking water and uninterrupted power. This led to its rejection in rural Goa
By GO STAFF
IN THE 40-member Goa assembly, the Bhartiya Janata Party (BJP) is down from 21 seats to 13, ceding ground to the Congress and other parties. Though a drop in their seats was expected, the BJP was still expected to be the single largest party – the position now held by the Congress. Interestingly this drop in performance seems to be the result of the people's anger against the BJP rather than a desire to switch to a more attractive option.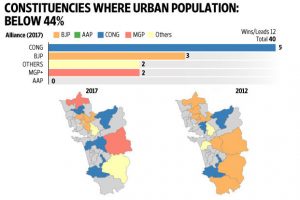 Here are three pockets where the BJP has seen a fall over 2012.
Rural seats
(3/12)
IN THE 12 assembly constituencies where the rural population was above 56 per cent, the BJP has seen its count drop from eight in 2012 to three this time.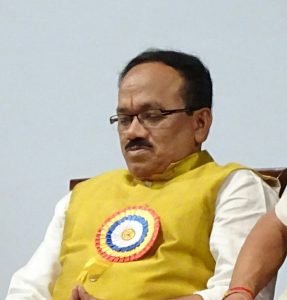 Those gaining included the Congress (from three to five), the Maharashtrawadi Gomantak Party (two seats) and independents (two seats).
Poor-amenities seats (3/12)
THERE are 12 assembly constituencies in Goa where 22 per cent of households or more don't receive drinking water in their homes. The BJP's count in such seats fell from nine to three.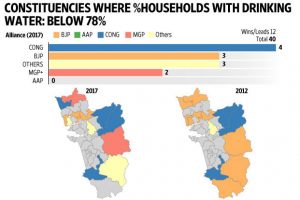 'Richer' households (3/12)
IN THE 13 Goa constituencies where the percentage of 'richer households'– defined as households who, under Census 2011, were recorded as owning a motorised two-wheeler/four-wheeler, TV set, computer and phone – was above 25 per cent, the BJP bettered its 2012 showing (from five seats to six). But in the 12 constituencies where such households made up less than 18 per cent, the BJP's count fell from nine to three.
.