GROUP PICTURE: Seeking a more sustainable lifestyle to save the Goa of old, key movers and shakers of the Global Shapers Panjim Hub are Gabrielle D'Cruz, Mrinmayee Thakur, Puja Mitra, Clinton Vaz, Tallulah D'Silva, Atul Borkar, Felly Gomes and others
Social media has gone hammer and tongs at Goa Forward and its mentor Vijai Sardesai over his defection to the Bharatiya Janata Party (BJP) camp. Voters in Fatorda are particularly angry as they supported the Goa Forward because it was seen as the only opposition to the communal, intolerant, fascist BJP. Among the most upset was eminent cardiologist Dr Francisco Colaço who had extended unstinted support to Vijai Sardesai and Goa Forward. After the polls, Dr Colaco went to the extent of stating that if it were not a criminal offence he would have shot Sardesai. His daughter Elaine, a merchant banker, explains why her father is so angry and very eloquently points out that such subversion of the people's mandate destroys our faith in the democratic electoral process
By Elaine Colaço
I have often asked my father why he takes such an active interest in politics. He is emotional, takes things personally, often gets personal and definitely lacks diplomacy. And he kept telling me that if you're not involved you have no influence over the future.
His biggest fear is that Goa will go the Maharashtra way – a state that is practically run by the Sena and its sainiks. Today, that is quite possibly the case with the Rashtriya Swayamsevak Sangh-affiliated Bharatiya Janata Party (BJP) coming into power. And largely because Vijai Sardesai, who he so strongly supported because of his so-called ideology, has made the ultimate U-turn, with a lot of false excuses and explanations as all good politicians do.
People call it progressive politics. If it is progressive to make a turnaround on the very reason that people voted you in, then I don't want to be part of this progress. And if we believe that it's progress to have a government that is essentially led by a self-publicising prime minister who allegedly presided over a mass murder – though currently politically correct with his silence on controversial statements made by party members – then I definitely don't want to be part of this progress. We voted with our emotions and our souls for a Goa that we envision. Not for this brand of practical 'progressive' politics – to make a choice between some sort of infrastructural development and communalism.
So my question is: what does one do?
Stay out of it and circulate funny Whatsapp messages? There's nothing constructive we did or want to do but hey, we're funny and we know how to click on 'share'!
Support a candidate we believe in? – Yeah, been there, tried that.
Get into politics and believe you can be the change you want to see? – The system unfortunately is bigger than good intentions and well-meaning people.
I really don't have an answer but increasingly leaning towards the notion that "genuine change will come when some day humanity can look back on the institution called the state with the same sense of shame and wonder that we now have about slavery", both man-made institutions.
ANGRY JEERS AND HISSES FROM OPPOSITION GROUP!
By Tara Narayan
GOA governor Mridula Sinha may have presided over the swearing-in of former defence minister Manohar Parrikar's new government at Raj Bhavan on March 14, 2017, but this was amid bitter protests outside at the Dona Paula-NIO circle in Panjim
by citizens cutting across all divides. This new government is neither morally legal nor morally deserved, say many angry voters in Goa, especially Fatordekars who voted for 'Trojan horse' MLA Vijay Sardesai of Goa Forward.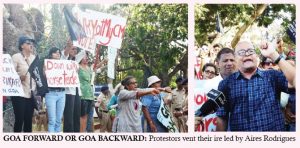 Even as Goa's aspiring and de facto political "royalty" passed by in their air-conditioned limousines for the swearing-in ceremony, over a hundred protesters booed, jeered and hissed outside with graphic placards in hand to express their feelings of betrayal and distress in no uncertain terms. Most of the anger was directed at Vijay Sardesai who reaped a harvest of votes courtesy what seems to be now a carefully crafted anti-Bharatiya Janata Party (BJP) platform. But when he won, he didn't think once of his voters before betraying them by joining the fastest-finger-forward, new coalition government of Manohar Parrikar.
Humiliated voters turned Sardesai's constant chant of "Goem, Goenkar and Goenkarponn" into "Fott, Fotting, Fottingponn" (various shades of "lies, liars and conning" in Konkani) and "Goa Backward!". And for Parrikar who wooed Sardessai into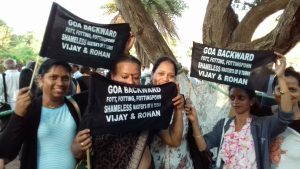 forming his new BJP government there was "Go back to Delhi!" and "You are not my chief minister!" One protester even jeered, "Manohar Parrikar go back to sleep!" referring to pictures of a tired out Parrikar sleeping while official talks went on around him. Say it is an unfair cut, but then Parrikar along with his other BJP friends is no respecter of democracy by the Indian Constitution, or prefers to subvert it in letter and spirit when the occasion requires it.
Say there is too much at stake for the BJP to now permit the largest party, namely the Indian National Congress, to form the government. So what if the Congress got 17 out of 40 seats in the Assembly elections. Calling it a "fractured mandate", Parrikar was quick to seize the opportunity of wooing various regional parties including the Sardessai's Goa Forward to convince the Goa governor to sign on the dotted line much before the Congress party old-timers could woke up to even understand what was happening under their noses! One protester outside the Raj Bhavan granted that "the BJP is full of race horses while the Congress is full of feuding donkeys" but said, "There is something called law and if governor Mridula Sinha was not partial she would have allowed the Congress with its largest number of winning 17 seats in the Assembly election to first prove its strength."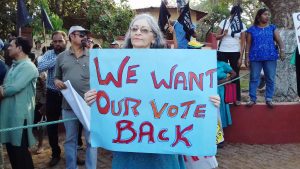 The manner in which the "clever" Parrikar managed to hustle together his new coalition government smacks of what is called "horse trading" in political lingo, but refers actually to high-powered money and ministerial berth mongering by those who seek to be in the ruling party. It all smacks of money politics rather than the politics of any good governance in Goa!
Long-term critic of the BJP, government advocate Aires Rodrigues, speaking at the protest briefly described the new government as a "backdoor government" and said, "Vijay Sardesai has backstabbed Goa." He didn't get his 10,516 votes in the Assembly elections in Fatorda so that he could join the BJP party. Most supporters voted for him because they perceived him to be anti-BJP and because they thought he would the perfect match for Parrikar, little dreaming that Sardesai was in a hurry to sit on the hot seat of power rather than on the cold seat of Opposition, even if he was the only eloquent  Opposition voice during the BJP's tenure of governance in the last five years. And now he has very charmingly joined forces with Parrikar's government of turncoat politicians!  
In Goa, politics has become tainted with a never before communal turn and many Goans who love their peaceful green Goa, fear Parrikar will turn it into the defence state of India in his anxiety to please the powers-that-be at the Centre in New Delhi. Goa is also losing its old tourism haven image and turning into a drugs paradise and trance parties destination for a hedonistic generation seeking drugs, liquor and sex. Witness how many young women turn up abused and murdered in Goa's tourism scene. And now say critics of Parrikar's government there are the casinos which double as dens for black money laundering and all kinds of sleazy goings-on which ruin Goa's old innocent image of being a safe state for tourism.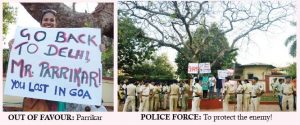 It is not surprising and not without reason that many Xashtikars who voted for Vijai Sardessai in south Goa are saying, "Give us back our votes!" They will
never vote for him again, that's for sure. Betrayals are deadly and hopefully will come back to haunt Goa's young politicians who seek power by hook or by crook.
It is well said that you cannot fool all the people all the time. For the time being at least Sardesai is no longer perceived as a "Goem, Goemkar, Goerkarponn" but as a "Fott, Fotting, Fottingpom" man of no character or backbone!