ALSO FOR GOOD OLD CONGRESS! A Congress team welcoming new joinee Rakhee Prabhudesai Naik and a few more every now and again. Former chief minister and Leader of Opposition, Digambar Kamat, never played dirty while in power and it gave its ministers a fair playing field to function in governance — unlike the present BJP chief minister who wants to take control of all matters to the detriment of democracy and governance, and also target Congress people!
By Our Special Correspondent
It's a continuing story of whoever wants to leave, may leave, but please don't come back!
THERE is something about the Congress party which still reassures despite the current sickening merry-go-round of betrayals, defections and mayhem in general which the political scene in Goa is currently in the grip of. At a routine press conference to introduce new members joining the Congress on October 21, 2021, media people got the feeling that at the Congress party worries are few, time will heal all wounds!
What is there to worry about if they have their own steady loyal mass base despite the constant wooing away of a few heavyweights and some lightweights by political parties not so new and very new seeking power in a hurry. While former chief minister and Leader of Opposition Digambar Kamat talks about how respect for the law is going for a toss these days in Goa, Congress President Girish Chodankar has time to tell you it is not as it looks. Looks will always be deceptive.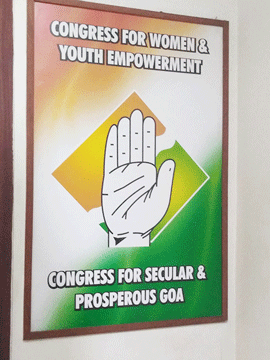 Many may be induced by money but in the Congress people join because they trust that old is gold. Or something like that. In fact, sympathy factor is going to play a strong role in the Congress' favour this coming elections. Goans may just vote for it again quite simply because it was not a level playing field at all the last time around when Goa voted for Congress and not the BJP! The BJP just stole the people's mandate like a clever thief. Perhaps it likes to be perceived as a clever thief and rejoices in it! It will soon have to learn how to sit in the Opposition for a change.
Incoming people joining the Congress include the soft-spoken former vice-president of Shiv Sena and spokesperson Rakhi Prabhudesai Naik. Congress loyalists also complained about how the Chief Minister Pramod Sawant is trying to control of everything including the Sakhali Municipal Council to up his takes at the assembly polls. His panel had lost, winners were offered money which when they rejected…cases were filed against them to make their lives miserable. Allegedly this is now the modus operandi of the BJP!
Complaints are filed routinely against Congress councillors. The law in deliberately misinterpreted to serve the BJP purpose and commented Digambar Bab, "During the Congress time at least this did not happen. The Congress respected the law and ministers concerned dealt with matters to do with their ministry." Unfortunately, today civic bodies are being demoralized. The fundamental question is can a minister who has nothing to do with urban development ministry, disqualify councillors? Municipal bodies have little to do with government in the sense that no minister has power to pass orders to interfere with Municipal council matters…"
This is how entire governance gets vitiated and arbitrary and during Congress times such interference and one person trying to take control of everything rarely happened. But then Digambar Kamat comes from an older generation of politicians unlike the new generation which is so arrogant that it wants to control every aspect of government. Being able to trust nobody! The people suffer.