SAMOSA GOA AT CARANZALEM… New business outlet for retailing a variety of samosa small and big by catering entrepreneur Khyati Kashyap. She also does chats specials and momos…more coming up but samosa are her passion!
WHO doesn't love the savoury conical famous samosa of India? It's quite possibly the most loved snack of all time even if it has evolved from the Middle Eastern Persian "sanbosag" of the 11th century and travelled a long, long way to India and around the world. Sambosag or sanbusak or chamucus or samosa…the non-vegetarians love it stuffed with mild or spiced up mutton kheema or beef or chicken. The potato-stuffed samosa is classically vegetarian and equally loved although today there are fillings and fillings in this lean or fatso samosa (depending on where you are).
I love my humble potato-stuffed samosa on a bad day and to hell with the fact that it is junk food. Samosa are eternally filled with temptations! Okay, bad day or good day I cannot resist them, these tantalizing triangular savoury beauty. Why are samosa so tempting? The triangular shape is very evocative of things metaphorical and esoteric maybe!
Do you think the savoury samosa is the most popular Indian snack? I think so. I mean last heard of a friend of mine, Khyati Kashyap all the way from Uttarkhand and Bangalore (where she did her catering degree) to Goa – she has started a takeaway café at Caranzalem, close to where I stay, called just that – Samosa Goa. She offers a selection of big and cocktail or mini samosa in buckets (a sales gimmick)…few can resist hefty or mini samosa in their various avatar.
Khyati also does mushroom and Mediterranean three-cheese samosa. In a sense I suppose these are industrial samosa (plural form samosa?) for she makes them in large lots and stores them in her refrigerator. Taking the samosa out as required and deep-frying them before delivery so that they reach you piping hot along with containers of mint and tamarind chutney. Her Samosa outlet is still new and just functional but in time to come I see it being jazzed up.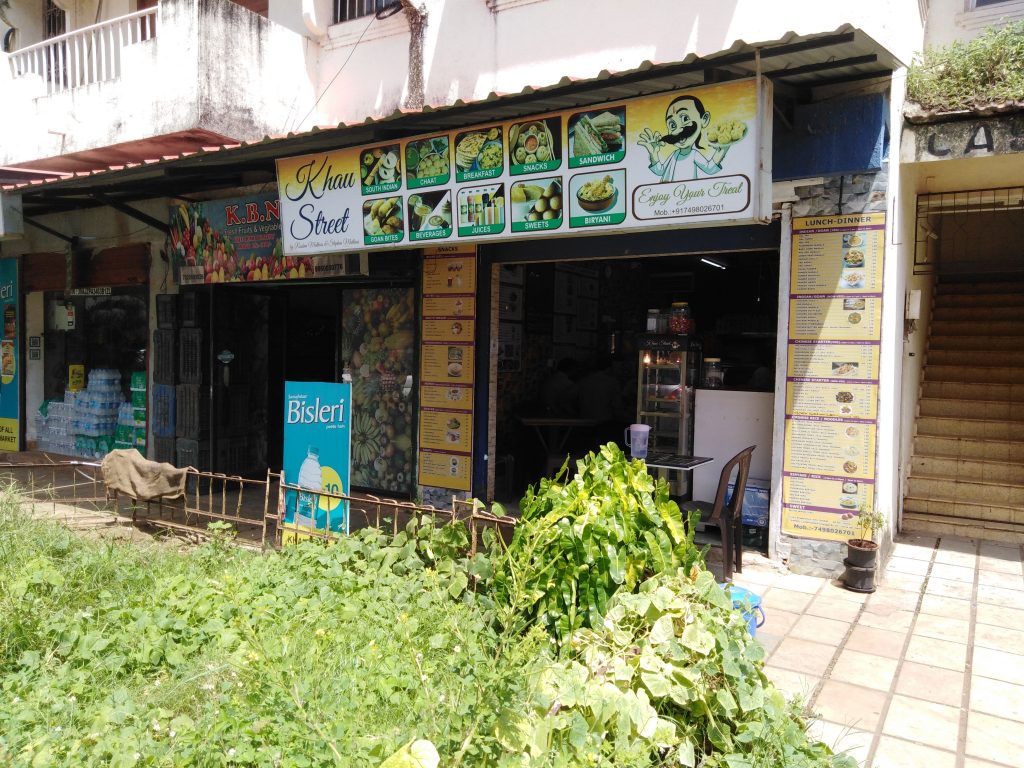 Quite simply because samosa are popular evening snacks with tea which she provides too and for good measure she also does steamed mo mo … nowadays one may find jazzed up samosa chaat – a top favourite, this is as you may imagine, a fairly hefty samosa squashed with mint and tamarind chutneys and draped atop with crunchies, a scattering of greens (mostly chopped green coriander, I find a mix of green coriander and mint more agreeable).
A cleanly made samosa chaat can be a very tempting bite in a hungry moment but this is as long as the samosa has not been over deep fried once, twice and even thrice in burnt out oil! The smell of burnt out oil on the palate can always be off putting and spoils your affair with samosa. I tell Khyati that I like my samosa thinly clad in 100% atta dough (and not half maida or fully maida) and it should be fried in rice bran oil or groundnut oil, or air-fried or oven-baked…and she smiled indulgently.
Maybe soon, but not yet, she said, "If you come mornings my oil for frying samosa is fresh …but I do keep adding fresh oil to the old oil for a while as the day passes." But she recycles her deep-frying oil only for three samosa fries…so she is conscious of the bad brief fried snacks have including samosa! Still, she knows on a bad day or even a good day many seek out samosa in all their glory and variety. So she's on to a good business! She's possibly inspired by this couple in Bengaluru, Shikhar and Nidhi Singh who gave up their high-paying jobs to start a Samosa Singh outlet – a recent report in a daily said they're making Rs12 lakh a day…so, don't knock samosa, okay.
NOWADAYS it's like we have a whole slew of samosa avatar and right from my Bombay years I've appreciated a good samosa, beginning with the garlic-redolent samosa of Vijay-tai of Vijay Stores near Vile Parle (East) railway station where evening sees a whole long queue for the "lasunchye samosa" to take home to relish with family and home-made ginger tea! When my mother was alive I used to get off at the station and walk down to Vijay Stores to pick up the samosa and catch an autoriksha back home to Juhu. Samosa are always a big hit with old and not so old.
Of course we have an assortment of samosa styles – think mini dry little samosa (which keep for a week), also mini samosa packed with sweet dry fruit churma. I just like my plain lightly seasoned potato-cumin filled samosa and usually shun the highly spiced or filled with veggie mix samosa….we also have the non-vegetarian samosa in Irani cafes and other takeaway stops, the kheema samosa with its thin patti covering.
The world of samosa is vast and many I'd say are all-Indian as in Bharatiya genes, okay. In Gujarat the green peas or green lentils or "leelva" samosa are a treat. In the Goan eateries of Café Real or Café Tato or Café Bhonsale the samosa are very good with the accompanying fresh chutney being the hallmark of the eatery. Of course you may find samosa most anywhere and I've seen the price for a single samosa zoom from Rs5 to Rs10 to the present Rs15 – the more upmarket you go the pricier of course.
Truly, a samosa is the most economical treat going with a cup of tea or coffee! By now I know which samosa from where I want to eat…I hate it when samosa fillings become too spiced up or the samosa is dripping with greasy oil. Most grocery shops stock freshly made samosa daily for retailing and they sell off fast: I find Magsons (Taleigao) samosa very enticing, they also offer good local bread) when they come in mid-morning. Tuck a warm samosa in a warm bread loaf and it's a filling treat ….a lot of calories of course.
Then one of these days if you have a mind do look up this place called Khau Street (opp Krishi Bhavan, Tonca, Panaji), a rainy mid-morning in August while taking a break here I discovered two kinds of samosa (Rs15), just come in, the first to arrive were very good and also the second lot. I ended up breakfasting on them and tried not to feel guilty afterwards! Who makes them? Two different homemakers, Stephen here said and vouched for them personally, they're trying to earn money to subsidize their life post-covid). Go enjoy the samosa here if you're in capital city Panaji!
To return to Khyari Kashyap of Samosa at Caranzalen, the samosa she does are Rs30 each but they come with lovely mint chutney and once in a way I say hello to her. If you feel and think samosa, check her out too. Ahhhh yes, I have always found the green peas-caju packed cocktail samosa at AZUR (Marriots Miramar) very good!