It's an annual fair offering of all kinds of goodies to buy during the countdown to Ganesh Chaturthi in Goa…there're about a 100 furniture stalls alone!
Text & Pics: Pankajbala R Patel
RUNAWAY inflation or not the annual 10-day long "Ashtamichi feri" ("feri" short for fair of assorted goods) or pre-Chavath sale of household goods goes back past 40 years plus, plus in capital city Panaji. Traditionally, it is the shopping season in Goa. It is the one time many Goan families from far and near come to Panaji to do their "big" shopping at the fair of variegated stalls winding from the Forest Department gardens right up to the Ferry Wharf where the casinos take over, down half the Campal promenade or officially Dayanand Bandodkar Marg.
This year the stretch seems to be endless and one may get tired walking so much that there's no energy to turn back! But if you're looking for some decent household goods this is the fair to make time for. Remember at one time most householders did their shopping once annually, and not like some of today's spoilt urban monied classes who shop day in and day out whenever the fancy catches them without rhyme or reason!
The furniture section practically takes over half the stretch this year too. Goa's furniture is much exalted and goes places around the world. At Rehan Furniture from Navelim a young nephew, Akib Shivelli, tells me, "Oh this feri is over 50 years surely now and it is my mama (uncle) Bhadru who started it!" Where is he? "He used to come for 20 years or so every year but is now old, 80 years something, and doesn't feel like coming to Panjim from Navelim!"
The Rehan Furniture place has on exhibition lots of furniture big and small and even some vintage pieces, although the rocking chairs are newer in design and still of Goa teak which is hard to get or so I hear. Olden times teak and rose wood furniture is hard to find except in antique furniture shops in Goa. Anyway almost half the fair is dominated by all kinds of furniture, about a 100 stalls here maybe…heavy single and double beds, sumptuous sofa sets, dining tables, lovely wooden temple pieces, lots of stools, book stands with slanted shelves, etcetera. Look at the rocking chairs for a home without one rocking chair at least! If you're pining for one the going price is Rs9,500 or so and some come in twin sets.
There are cupboards, all manner of ladder stools, some lovely high seaters of perhaps Malaysian teakwood or MDF (medium density fibreboard) which is popular. The book stands are going for Rs1,500 plus, you have to bargain here or go on the last day when nobody want to take furniture back! Most folk buy new furniture or throw out old for new at this time of the year with the Chavath holidays coming up this weekend and when Panaji empties out.
AFTER the furniture come the garments stalls, toys, mobile phone paraphernalia, crockery, eco-friendly stainless steel vessels going to cries of "Take three for Rs100" and elsewhere plenty of cries of "Rs100 sale only!" There are a lot of Rs100 buys and a woman vendor all the way from Margao appealed, "Madam I have to catch the bus back to Margao before 7pm, please by all my kitchen napkins…here, I am giving you seven napkins for Rs100, you may put them to any use, they are light too and after washing will soften!" Irresistible buy and that's about all I bought to make her happy and moved on with the bundle of colourful checked kitchen cloths tucked under one arm…hoping not to drop them anywhere.
Basically, I have everything, too much in fact; and I'm not into shopping anymore. Just looking, wistfully here and there…at door hangers, cast iron tava, gardening tools, granite and marble round stones which do well for rolling roti…sil-batar for crushing spices or making chutney and even an old world two-piece round stone mill for grinding flour! Once upon a time women ground their flours on such a portable stone mill and they stayed trim right into their senior years, doing hard work!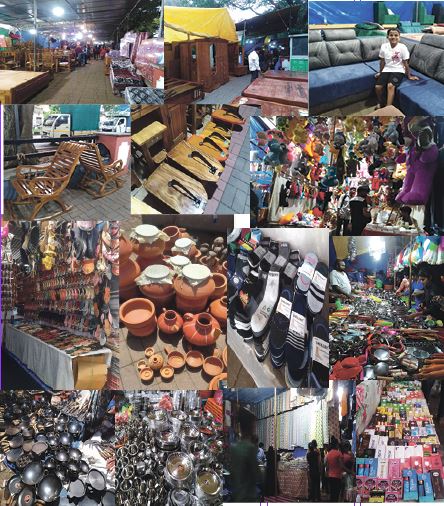 There are all manner of colourful hairpieces, entire walls showcasing denim jeans, children's and women's garments, I ended buying these rather cheap and neat plain and dark spectacles (both sets for Rs100 only) to wear while riding my two-wheeler, to stop dusty wind from getting into my eyes, hope they endure and not break off too soon!
WHAT else? Don't miss the rather nice seconds stall of ceramic mugs and crockery, some of Chinese origin, quite a few things from China here…slip-on socks, porcelain chinaware, light perfumes. There are good powder coated iron horse stands going for less than Rs10,000…to a query an old timer here tells me there are about 200 furniturewallahs in Goa and most are based down south Goa at Navelim and Margao.
How's business this year, "Very bad so far! It takes us two or three days to set up our stalls really and Municipality is charging us steepest this year, last year it was about Rs11,000 but this year were quoting Rs60,000…Monserrate bhai spoke for us and brought it down to Rs37,500 something for ten days rental charges per five meters space! Even then I hope we don't have to commit suicide by end of the fair business…"
It is well worth taking a leisurely walk down this year's Ashtamichi or Chavath fair down Campal promenade! There are many desirable or undesirable temptations. As early evening turns into late evening take a break and to admire the sun setting in a colourful finale just where the casinos are parked against the backdrop of the river Mandovi…by now most are fretting to wind up a buy and go home somewhat happy with their annual purchases. I think I shall go back and start walking this time from Ferry Wharf end just for fun but maybe buy some of the "Take three lightweight stainless steel bartan for Rs100 only!" Quite a few stalls are offering their spread of goodies in trio for Rs100, real amusing bargain price.