JACKPOT: The Industrial Promotion Board headed by Laxmikant Parsekar is alleged to be the fountainhead of corruption. On Bhau-beej, big brother Parsekar distributed saris to all the women in his constituency of Mandrem
The total assets of the Laxmikant Parsekar cabinet exceed `50 crores. Among the re-elected MLAs who admitted to a huge increase in assets despite being in the opposition is the chief minister whose assets increased by 749 per cent from `1.26 crores in 2007 to `10.75 crores in 2012
IT is well known that chief minister Laxmikant Parsekar leads the loot and plunder by the Bharatiya Janata Party (BJP) through the Investment Promotion Board (IPB). In competition is tourism minister Dilip Parulekar who has been making crores in commissions by promoting helicopter rides, hot air balloons and duck boat rides among other money making projects. Assisting him is Curchorem mining crorepathi Nilesh Cabral, who declared assets of `13.42 crores in the 2012 elections. Now in his position as chairman of the Goa Tourism Development Corporation (GTDC), he is selling the tourism department's crown jewels.
MANDOVI BRIDGE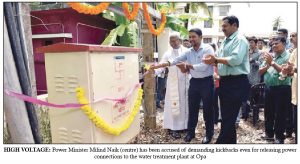 NOT lagging far behind are industries minister Mahadev Naik and power minister Milind Naik. Panjim MLA Siddharth Kunkolienkar in collusion with Venkat Rao is looting the state through the Goa State Infrastructure Development Corporation (GSIDC). Kunkolienkar has the support of GSIDC chairman Pramod Sawant who declared assets worth `1.25 crores in 2012. One example is the concretisation of the still incomplete Miramar-Dona Paula jetty road at a cost of `100 crores and the unnecessary third bridge over the Mandovi.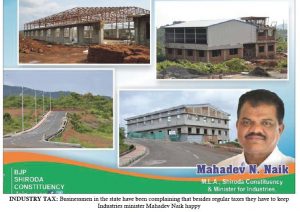 Not surprisingly, except controversial sports minister Ramesh Tawadkar who has been implicated in the Ruby building scam in Canacona, all other members of the Parsekar cabinet are crorepathis. Tawadkar is only a lakhpathi, but will join the ranks of the crorepathis when he files his declaration for the 2017 elections. In 2012, he declared assets of `81.36 lakhs.
The average assets of the ministers of the present BJP government, at `4.49 crores, are higher than those of the members of Digambar Kamat's cabinet.
The richest BJP MLA is neither Deepak Dhavalikar nor Parsekar. It is Calangute MLA Michael Lobo, chairman of the North Goa Planning & Development Authority (NGPDA). He has succeeded, through his close relationship with former chief minister Manohar Parrikar, to get Calangute and Candolim also included in the NGPDA. Lobo, who owns many hotels and is the patron of the North Goa Taxi Association, declared assets of over `20 crore while contesting the 2012 assembly elections.
Pandurang Deepak Dhavalikar of the Maharashtrawadi Gomantak Party (MGP) from Priol, an alliance partner of the BJP, has the highest assets according to his affidavit filed while contesting the 2012 elections. He is worth `13.40 crores, an increase of `11 crores over his assets in 2007.
PARSEKAR ASSETS
FOLLOWING closely behind is Parsekar whose assets in 2012 were worth `10.74 crores and are reported to have increased to more than `25 crores during the present tenure of the BJP government. Even while he was in the opposition between 2007 and 2012, Parsekar managed to increase his assets by 749 per cent from just `1.26 crores in 2007 to almost `10.74 crores in 2012.
Power minister from Mormugao Milind Naik, who has been refusing to grant electricity connections to mega investment projects approved by the IPB, is the third richest member of the present cabinet. The value of his assets rose from just `72 lakhs in 2007 to `7.49 crores in 2012.
His assets are also expected to cross `25 crores when he files his nomination for the 2017 election. In terms of the extent of loot and plunder, the number four in the cabinet is public works department minister Ramkrishna Sudin Dhavalikar whose total assets in 2012 were `5.58 crores, up from `3 crores in 2007.
He is also expected to show much higher gains during his present tenure as a minister in the BJP cabinet. Dhavalikar is among the few MLAs who was also part of the Digambar Kamat cabinet. In 2012, he switched sides and the MGP aligned with the BJP, breaking its ties with the Congress.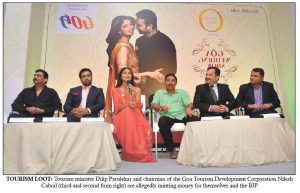 Irrespective of which party MLAs from the mining constituency are elected from, they are among the richest members of the Assembly. Take Ganesh Goankar from Sanvordem, the hub of the mining industry. The chairman of the Goa Industrial Development Corporation (GIDC) declared assets worth `7.40 crores in 2012. His colleague in Sanguem admitted to assets worth `7.08 crores. Chandrakant Kavlekar from Quepem declared assets worth `5.31 crores. Following the suspension of mining and its slow revival, the mining MLAs may not fare as well during the current tenure of the assembly in respect of increasing their assets.
RAKSHA MANTRI
DEFENCE minister Manohar Parrikar declared assets worth `3.40 crores when he filed his nomination in 2012. This was 228 per cent higher than the assets he had declared in 2007. We do not know whether he has accumulated any more assets after going to the centre. But we do know that during his second term as chief minister, he acquired a bungalow in Dona Paula. He also got a plot allotted for his second son in the GIDC industrial estate.
Parrikar's second son is married to the daughter of the president of the Builders Association, Desh Parabhudessai. Parrikar however is known for his integrity though he has tolerated large scale looting by his cabinet colleagues like Babush Monserrate. Babush declared assets worth `23 crores with his wife Jennifer also recording a similar amount, together totalling `46 crores.
Contrary to general belief, Mathany Saldanha who was among the first Catholic politicians to join Parrikar was not exactly a poor man as projected. The leader of the ramponkars had assets that increased by 127 per cent, from `3.36 crores to `7.65 crores between 2007 and 2012. Following his unfortunate death, his seat was inherited by his wife Alina Saldanha who has declared assets of `2.89 crores.
This reduction could be because of the Uniform Civil Code where the wife inherits only 50 per cent of the husband's estate. The MLA who has seen only a very notional increase in his assets is deputy chief minister Francis D'Souza whose assets increased by just three per cent or `10 lakhs between 2007 and 2012 to `3.04 crores from `3.15 crores.  
DILIP PARULAKAR
BJP's CULTURE minister Dayanand Mandrekar from Siolim has declared assets of `2.63 crores which represents an increase of more than 300 per cent between 2007 and 2012. Parulekar, who is considered among the most corrupt members of the Parsekar cabinet, was worth only `35 lakhs in 2007. In 2012, he declared assets worth `1.50 crores, an increase of more than 300 per cent. His assets are reported to have increased by over 1000 per cent as tourism minister.
Forest minister Rajendra Arlekar, who reduced the status of the coconut tree to a grass to help the clearance of a distillery by the IPB, saw his assets increase from `44 lakhs to `one crore in five years. Kiran Kandolkar, who had to be satisfied with chairmanship of the horticulture corporation, saw an increase in his assets by `1 crore, from `80 lakhs to `1.90 lakhs.
Of the BJP MLAs who have not been able to make it to the cabinet, Anant Shet who was re-elected from Mayem saw an increase in his assets from `24 lakhs in 2007 to `88 lakhs in 2012. Of the independent candidates who joined the BJP cabinet, Avertano Furtado who defeated Churchil Alemao from Navelim has declared assets `1.03 crores. He is expected to return to the Congress party next year. Mauvin Godinho who is set to contest as a BJP candidate in 2017 increased his assets from `2.73 crores in 2007 to almost `8 crores in 2012.
Velim independent candidate Benjamin Silva who has been supporting the BJP government has doubled his assets from `1.21 crores in 2007 to almost `8 crores in 2012. The Hindu Catholic Carlos Almeida who contested on a BJP ticket from Vasco recorded an increase in his assets from `1 crore to `2 crores. Former police officer Lavoo Mamledar who contested the 2007 and 2012 election on an MGP ticket is the only MLA supporting the Parsekar government who has shown a decline in his assets from `1.81 crores in 2007 to `1.35 crores in 2012, a fall of 25 per cent.
OVER `50 CRORES
THE Parsekar cabinet had total assets of over `50 crores in 2012. It is expected that their assets will show a huge increase when they file their nominations for the 2017 election. The perception is that the BJP government under Parrikar and Parsekar has been even more corrupt than Digambar Kamat's Congress government. The situation has worsened after Parsekar took over as he is following the tradition of loot and let loot started by Kamat.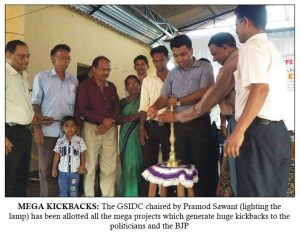 The milch cows of the Parsekar government have been the IPB and the Tourism Department. The loot and plunder from the IPB may be affected by the recent High Court order that IPB approval did not imply consent by Coastal Regulatory Zone or other regulatory authority.
The other milch cows have been the forest and environment ministry, first headed by Alina Saldanha and then by Rajendra Arlekar. Arlekar reduced the status of the coconut tree to grass to enable conversion of orchards. He has also been granting NOCs to mines without clearance from the central ministry of forest and environment. The other milch cow is the Goa State Infrastructure Development Corporation which has bagged all the mega projects and is controlled by a close confident of Parrikar. The health insurance scheme and free talk time are the latest scams of the BJP government.