CRIMINAL CONSPIRACY: Santa Cruz MLA Babush Monserratte has been accused of attacking the Panjim police station to force the release of criminals close to him
The number of criminals contesting elections has increased between 2007 and 2012.Based on the affidavit filed by the candidates, the Association for Democratic Reform has revealed that 12 of the 40 MLAs of the current assembly have cases registered against them, with three charged with serious crimes including abetment of suicide and murder
IN keeping with a trend across the country, a significant number of candidates contesting the Assembly elections in Goa have criminal records. Their number has been increasing with every election.
Of the 40 MLAs who won the 2012 election, 12 have admitted to criminal cases, with three charged with serious offences including abetment to murder, abetment to suicide and voluntarily causing hurt by dangerous weapons. There are also charges of theft and extortion. In contrast, none of the MLAs elected in 2007 had seriously criminal cases pending against them.
In terms of party wise breakup, the Association for Democratic Reform (ADR) has revealed that the Bharatiya Janata Party (BJP) heads the list with 10 of its 28 fielded candidates (36 per cent) having criminal cases.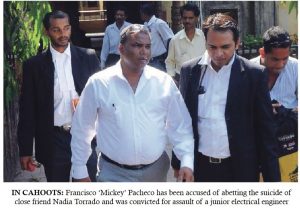 The BJP was followed by the Nationalist Congress Party, which had 20 per cent of its candidates admitting to criminal cases. The number of Congress candidates facing criminal charges was nine of 33, or 27 per cent. While two of the candidates of the Congress party were facing serious criminal cases, not a single BJP candidate was accused of a serious crime.
The ADR revealed a break up of nine cases of voluntarily causing hurt with dangerous weapons under sections 324, 325 and 326; one case each of causing death by negligence, abetment of suicide and abetment of murder. There has also been one case each of theft and extortion.
One of the top five candidates facing serious criminal charges in 2012 was Atanasio Monseratte who was charged with voluntarily causing hurt by dangerous weapon, a charge relating to rioting armed with deadly weapons (the attack on Panjim Police Station), mischief by fire or explosive substance with intent to cause damage, and preventing a public servant from performing his duty. There are similar charges against his wife Jennifer, which include voluntarily causing hurt with dangerous weapons, a charge relating to rioting armed with deadly weapons and mischief with explosive substance which caused damaged to public property.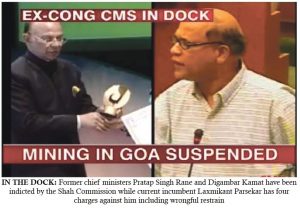 The other MLA in the list of those facing serious criminal charges is Francisco Xavier Pacheco (Mickey) who has been charged with one count of extortion besides abetment to suicide. He has also been charged with forgery and criminal breach of trust. There are two charges against him of assault on public servants. Mickey has been convicted in an assault case on a junior engineer of the electricity department. He has however appealed the conviction.
Surprisingly, one of Goa's richest industrialists, Arjun Anil Salgaonkar, who contested from Sanvordem and lost, has three cases – one serious – pending against him. The charges include theft, criminal conspiracy, receiving stolen property and a charge under section 138 of the Negotiable Instruments Act. He is the son of the late Anil Salgaonkar who died in Singapore a while ago.
The other candidate against whom there are serious criminal cases is Govind Gowde who contested from Priol. There is a charge against him of attempt to murder, rioting armed with deadly weapons, disobedience of orders of public servants and a charge of voluntarily causing hurt to a public servant.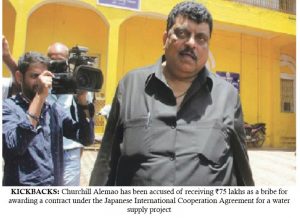 Of the candidates who won the 2012 elections, seven of 27 from the BJP (33 per cent) had criminal cases pending against them. An equal percentage of Congress candidates (three of nine) elected to the assembly had criminal charges against them. While the BJP did not have any elected MLAs with serious charges, the Congress had two namely Babush and his wife Jennifer. The Goa Vikas Party contested only two seats, and with Mickey having a serious charge, the party had the highest percentage (50 per cent) of criminal cases among those elected to the assembly in 2012.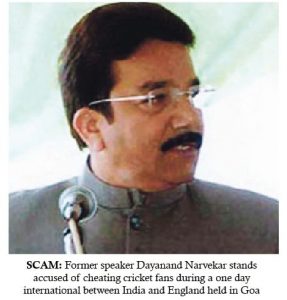 The number of MLAs with criminal cases increased from 23 per cent in 2007 to 30 per cent in 2012. However, while the percentage of BJP MLAs with criminal records declined from 43 per cent to 33 per cent, that of the Congress increased from 13 per cent to 33 per cent. Of 40 MLAs, 12 had criminal cases pending against them in 2012 as against nine in 2007.
Besides the criminal cases pending against candidates of various political parties and sitting MLAs reported by the ADR based on their affidavits in 2007 and 2012, the number is likely to increase sharply when nominations are filed for the 2017 election. There have been cases filed against two former chief ministers – Pratap Singh Rane and Digambar Kamat – for illegally converting mining concessions into leases. Both have been indicted by the Shah Commission for retrospectively granting leases to mine operators.  
There are also cases pending against Kamat and Churchill Alemao in the Luis Berger scam involving kickbacks in allotting projects under the Japanese International Co-operation Agreement. There are cases pending against former Fatorda MLA Damu Naik in relation to Entertainment Society of Goa (ESG) tenders for the International Film Festival of India (IFFI). The number of cases would have been much higher but for the decision of former chief minister Manohar Parrikar to withdraw all politically linked cases when he returned to power.
But even Parrikar has not been able to withdraw charges against Dabolim MLA Mauvin Godinho who is moving to the BJP. Similarly, the cricket ticket scams against Dayanand Narvekar who has been charged is pending in the courts.