RAZZMATAZZ….. A traditional Hindu swearing in of the new government of Goa led by Chief Minister Dr Pramod Sawant along with his new cabinet ministers Vishwajit Rane, Mauvin Godinho, Ravi Naik, Nilesh Cabral, Subhash Shirodkar, Govind Gaude and Atanasio Babush Monserrate (right hand corner), on the dais are also Governor of Goa PS Sreedhran Pillai with Prime Minister Narendra Modi and chief ministers of various BJP states in India Narendra Modi and chief ministers of various BJP states in India
LOUD and clear all the way it was "Bharat Mata Ki Jai!" The message continues to come through that India is a Hindu country first. Never before have politicians been sworn in to power with so much traditional pomp and ceremony outside the Legislative Assembly of Goa! You can say it was like a mini khumb mela mela in Goa with welcoming tutari horns blowing (these are used during auspicious, social and religious occasions in Maharashtra), temple bells ringing and BJP karyakarta or cheerleaders filling the venue with their constant cries of "Bharat Mata Ki Jai!"
It was a chok-a-blok presentation when Chief Minister-Designate Dr Pramod Sawant and his new council of ministers were sworn in as the "new" face of the government of Goa on Monday, March 28, 2022 at 11 am at the Dr Shyama Pasad Mukherjee Indoor Stadium at Bambolim plateau of capital city Panaji. All of 18 days after the assembly election results were declared on March 10!
It brought back memories of 2017 when the late Chief Minister Manohar Parrikar was alive and everything moved at high speed to win the game of fastest finger forward to the governor of Goa to grab the government against public mandate! But that was in 2017. This swearing in of the new government was a study in contrast and a far cry from what happened in 2017. Might always wins when rights are under attack, my dears.
The new government is made up mostly of the same old familiar faces venal and not so venal. Since there are many heavyweights in the government of Goa the irresistible thought arises about whether it's a government which will soon collapse like a pack of cards or last out for a full five years? But, on second thoughts, perhaps it is time to think "shub shub bolo" (say good things) and "ghee-shakar muh mein" (may there be sweetness in your mouth) and wait with patience for an interesting future to unfold with some positive good in the larger interests of a democracy which is giving up its ghost in India that was Bharat which is now seeking to be Bharatdesh again (we seem to have forgotten what Bharatdesh was all about and behave as if it was one of the golden periods of ancient India generally speaking).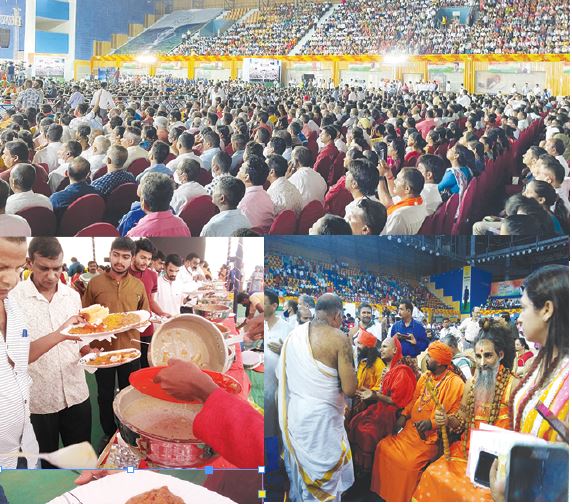 A lot will depend on which of his ministers Chief Minister Pramod Sawant will turn a blind eye to or crack the whip on the merrymakers of his Cabinet for whom spouting oaths means little…who will be showered with blessings and who will be turncoats in the political charades of this country which have brought the common people on their knees praying to Lord Ram and whichever gods we pray to in times of stress and distress. Key question: Will the BJP in Goa now go all out to unleash a full scale Mahabharat war on its very own people in the name of religious and political expediency?
It was ironically amusing to see the same old politicians with a chequered history of corruption and indifference to moral values taking the oath of secrecy (according to polls rights group Goa Election Watch and the Association for Democratic Reforms-ADR, 44 percent of the newly sworn-in ministers in Goa have declared criminal cases against them). How is it that every time the same politicians succeed in stealing the thunder from a younger generation of politicians also seeking the fruits of power, pelf and forever after control?
The Dr Shyama Prasad Indoor Stadium chose for the first time in political history for a swearing in of a new government was packed with BJP well-wishers, friends, observers, several interesting looking Hindu religious sages like the Sadguru Shri Riteshwar Ji Urinddavan of the Anandam Dham Peeth Vrindavan — whose blessings many sought after the pomp and ceremonial swearing in was over. There was the usual wait squabbling for better seating but when Prime Minister Narendra Modi arrived as also the chief ministers of the other BJP-ruled states the oath taking commenced immediately.
Governor Shreedharan Pillai presided over the oath taking of Pramod Sawand, Vishvajit Rane, Mauvin Godinho, Ravi Naik, Nilesh Cabral, Subhash Shirodkar, Rohan Khaunte, Govind Gaude and Atanasio Monserrate. Security outside and inside the venue was tight, lax for some depending on whether they had a red (VIP) or blue card (media and khas aadmi of the BJP leaders with family in tow). All of it was truly redolent of a janata durbar with BJP's khaas friends pushing their weight around by squeezing or climbing over the iron barricades demarcating seating zones. Many were the arguments as appeals to "friends" from double-engine high commands from Goa or Delhi and to be honest here, I too found myself appealing to Satish Dhond(Organising Secretary of the BJP) who in his usual way was prowling around like a powerful ghost in the backgound running interference! Some succeeded in climbing over the barricades for a closer view of stage goings-on.
Even the balcony seats high up were packed with invitees and guests keen on witnessing the fanciest extravagant swearing in ceremony of a government in Goa. A special highlight of the event was the presence of chief ministers of several BJP-governed states which included Manohar Lal Khattar (Haryana), Shivraj Singh Chauhan (Madhya Pradesh), Pushkar Singh Dhami (Uttarakhand), Dr Himanta Biswa Sarma (Assam), Basavaraj Bommai (Karnataka), Biplab Kumar Deb (Tripura), Jairam Thakur (Himachal Pradesh) – many of his posters were put up prominently at the venue.
Also present were Himachal Pradesh Governor Rajendra Arlekar and Union Minister Shripad Naik who maintain such low dignified profiles despite their seniority in the BJP corridors of power. A pity it is not getting them anyway higher up where they may play a constructive role in more honest governance! Who wants honest governance?
The moment he was sworn in Chief Minister Dr Pramod Sawant was all smiles as he sought blessings of Prime Minister Narendra Modi and others on the dais. The entire swearing was relayed on large LD screens but this was not good enough for some will always want to be upfront closer to the scene of action. The politicians took their oaths of government in Konkani, Marathi and Hindi and clearly some were uncomfortable as they stumbled over phase and word here and there while taking their oath and prompted by Governor Shreedharan Pillai.
The swearing in itself was quickly over and with the VVIPs and VIPs departing a jamboree melee took over with everyone queuing up to wish Chief Minister Dr Pramod Sawant for making it to the chief minister's kodel. It was a scene of utter chaos and push and pull with disgusted women expressing their ire with the attitude of men without dignity! An overwhelmed and profusely perspiring Chief Minister Pramod Sawant took everything in his stride and accepted everyone's best wishes graciously.
Those who lost patience in the queue made a beeline for the simple vegetarian lunch served outside the hall — catered by Aroma Group lunch comprised of bread slices, alsande beans, kabuli chana, rice, pickle and a sweet chana dal sweet. There was potable water and lemonade in dispensers and it was altogether an efficient if crowded experience for the invited public from far and near in Goa! Finding parking space for two-wheelers is always a nightmare at this gala events upon arrival and departure.
A new and not so new government is in place in Goa although many observers fear that it may not last long. Rich little Goa is a state where several politicians want to be the chief minister to harvest the fruits of power which are sweet – maybe not so much for aam aadmi, but for khaas aadmi seeking more and more fortunes ad infinitum!