Hostess Malini Ramani's reserved experiences…. getting into to the mood to dance away on board the Angriya. The wind blowing, the sea rocking and beautiful people, liquor, gourmet food table curated by celebraty Chef Vicky Ratnani (right) with fashion designer Malini Ramani and musician Karsh Kale
BY TARA NARAYAN
SOMETIMES I'm in the mood to blank out life's grim realities and escape or indulge if you like in some idle gossip! Of what makes up the good life in Goa… so here I go. Don't ask me how I found myself going along to a party to beat all parties but I think half the reasons I went was just to catch up with a rendezvous with the sea and ships. An old boyfriend of sorts had introduced me to the more joys of sea adventuring in my more salad years and I guess I got hooked; plus, I grew up on an island home so the sea was everywhere and I can always feel nostalgic about.
It was a media invite to go party and see if the some of the Blenders Pride Reserve Collection whiskey being promoted here goes smoothly down my throat! Well, the party was curated by none other than one of our more interesting fashion designers Malini Ramani (also famous daughter of a more famous mother Bina Ramani, on whom many gossip columns thrived out in Mumbai once upon a time during the Jessica Lall case if you remember) and the party was aboard my friend Capt Nitin Dhond's cruise ship Angriya'…he wasn't around but his dapper right hand man Nirmal Kulkarni was very much there multitasking as usual. I must see it was wonderfully smooth ferry ride out from Captain of Ports Jetty in Panaji to 'Angriya' and most of the party folk settled down on Monkey Deck to have a rocking time with as they say with wine (sorry, whiskey cocktails), women and men and music (live band playing)…and what's there not to like on the deck of a ship with afternoon turning into dusk, the wind blowing gently and rudely off and on with all fancy hairdo's flying around various familiar faces as folk got into the mood to enjoy the moment. We were ushered in with gifts of pretty straw hats. Chef Vicky Ratnani had created this piece de resistance spread with all kinds of goodies ranging from fruit to cheese plates, bowls of green and black olives, almonds, walnuts, caju, cranberries….lots of golden-fried potato wedges made the rounds and I got carried away, feasting on them and later unable to do justice to the plates of yellow chicken, scrumptious pasta and paella. A closer look also revealed amidst the table cherry black baby tomatoes, miniature mandarins and Indian gooseberries snuggling away prettily – needless to say it was a real la di da spread. While others got into dancing I watched them and generally speaking the scene scenery, getting lost in dreams of my middle age slipping through my fingers! Ah, of course, there was this special menu listing the Reserved Experiences cocktails christened fancifully as The Earl, Scofflaw Fizz, Spice Trader, Double Old Fashioned, Reserve Boulevardier…all featuring BPRC whiskey. Since I don't know nothing about whiskey I asked and was told BPRC is "a blend of premium whiskeys" – not like first malts or good old-fashioned scotch.

Anyway, whisky, cocktails were colorfully chilling, I asked the expert bartender to give me the most thirst quenching cocktail of them all and he fixed me a Scofflaw Fizz, that's BPRC shaken with "Aperol, Italian Vermouth Red Berry Tea, Citrus and Ginger Ale", it came with a sprig of rosemary floating atop it. After that a long lost friend who was there went and got me a very good white wine which kept me company for some time. I watched the others dancing and was enthralled by the performances of professional flamenco dancer Veronica Peres, oh how she danced, she's too good and also has this gorgeous smile. Stupid me, should have gone up and spoken to her but was too intimidated! Or was too cosy in my light wicker-worked armchair. Really, shame on me, I didn't even stir to ask the lithe and dimpled Malini Ramani about her exciting life and times. She was busy with friends and sportingly posing for pictures for the whisky promotion. It's not often now that I meet up with the rich and beautiful people of Goa at a social do but yes, some were here and Ms Malini I'm told considers herself half or three-quarters Goan, for she owns both home and boutique in Goa and comes here to relax from her hectic life, works pretty hard to stay in shape with yoga. I dare say her mother Bina Ramani has lived a more adventurous life, she must be what, in her mid-70s now? And from all accounts lives an extremely organic lifestyle with her new line of business trademarked Malabar Secrets, it offers wellness elixirs, dark artisanal chocolates, spiced honey, pickles and desi ghee if you please. Needless to say frightfully expensive. But one of these days I must get her autobiography 'Bird in a Banyan Tree: My Story' and read it, I'm sure the story of a Sindhi Sikh girl finding her way in life is worth reading…amongst other things she confesses she could have married Shammi Kapoor if she wanted to but didn't because she was too young to think for herself! She let her family think for her. LATER, weary of everybody else partying I decided to wander away to take in theAngriya' elsewhere, look at its treasures including sparkling clean cabins – they look very comfy and would make for a terrific weekend voyage holiday all the way to Mumbai or back to Goa.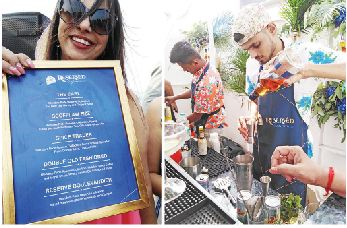 In one of the cabins I spied this interesting Pinak 'AL' – or "alkalized water in an eco-friendly box" placed in all the cabins, the water is being introduced for the first time in India. Hey, I should have broken a pack to taste the water but it looked expensive…so I didn't.
Well, all this and more, needless to tell you the 'Angriya' is a great place to have your parties! I keep telling boss man Capt Nitin Dhond to extend his cruise ship's brief to offering more cruise voyages, like going to the Lakshadweep Islands off Cochin down south India… with India's extensive coastline we should have cruising as an agreeable holiday treat for Indians, no?


It was quite late in the evening by the time all of us got back to Panaji, still high on sun, sea, wind and partying. I think I could give up land to sail the rest of my life away on board a ship, my dears. On that note it's avjo, poiteverem, selamat datang, au revoir, arrivedecci and vachun yetta here for now!
— Mme Butterfly