Frederika Menezes is a Goan author, poet and artist. She has authored `Unforgotten" a love story for young adults in 2014. She also writes poetry and makes the most of life although diagnosed with cerebral palsy. She lives with her two physician parents, Jose Menezes and Angela Fonseca e Menezes at Altinho, Panaji. She continues to be a strong support and role model for many, championing causes for the differently-abled in society. She has been feted and awarded several times and been a TEDxPanaji speaker.
Reviewed by Tara Narayan
THIS novel titled Miguel' written by one of the Goa's iconic people plus author, poet and artist Frederika Menezes offers a meanderingly simple love story gone all wrong. The sadness of times conservative, timid, insecure…and before you know it, one's missed the boat of love one aspired for but failed to do enough to swing it to reap the benefits. Sweet love, after all, is so rare.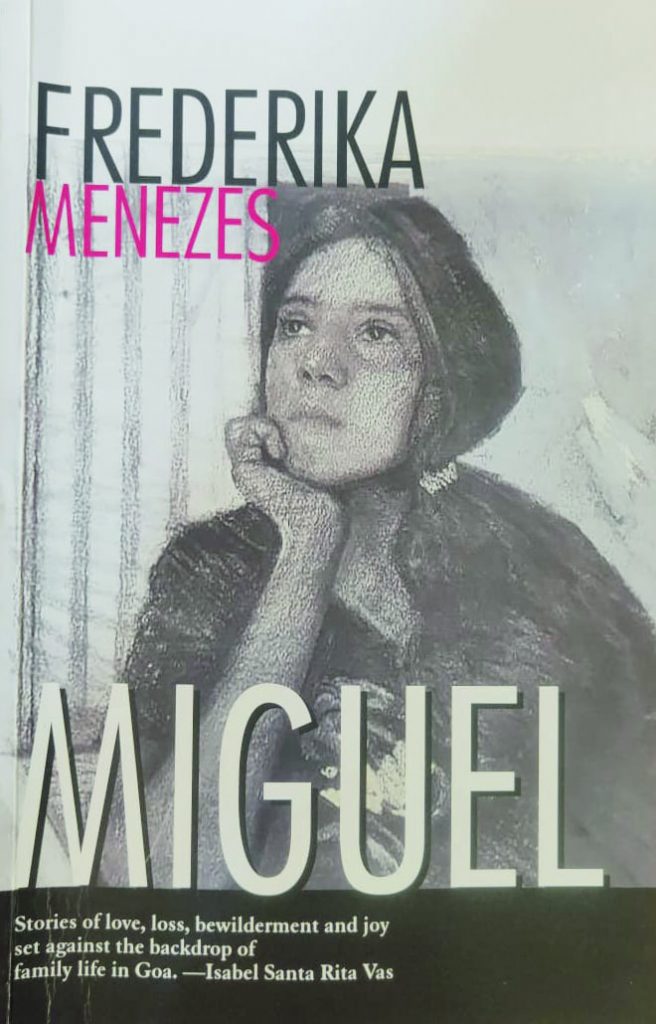 InMiguel' we have a whimsical, thought-provoking Sofia Marie Costa who knows her mind and what she wants but gets pressurized into marrying a man she really did not want to marry. An easily forgettable Armando. But a common place tragedy of the times (or so it seems) unfolds and in between our heroine of the novel fills up a secret dairy — which later on her grandniece finds upon her death. Finally, there is a glimmer of sunshine, a new dawn for another generation making their choices of life with far more ease and confidence!
However, in Sofia's case let's say it is anxious and restless parents worried about an unmarried daughter on their hands, who played a role in the tragedies of another age. Of course no parents want a daughter to get carried away by some young man's wooing only to fall in foolish love traps with no forthcoming marriage proposal. Juicy scandals would make the rounds then. Altogether, the author gives us a peep into old world stresses and hypocrisies which plagued the lives of young women when faced with the subtle and not so subtle dilemmas on the subject of marriage — at the right time to the right man and live happily ever like their mothers did.
Sophia nourished love for one man, got pressurized into marrying another and lived to a ripe old age paying the price of lost love. As it is said time and tide waits for nobody and seeing how neither she nor her secret "lover" could make their minds, she soon did the inevitable and her tragedy unfolds. Miguel' is a very well woven story offering us glimpses of family life and its discretions, frustrations, mundane talents and duties – of times gone by in Portuguese time Catholic Goa, where with much overtones of graciousness and hospitality marriages were arranged, broken, women left alone to fend for themselves in their parental homes. Our heroine is spirited, whimsical, loves to laugh…and yet she couldn't stop herself from marrying a man she didn't want to marry in the first place. Tragedy strikes and there's nothing left to do but retreat with as much dignity as she could. Return to dreaming anew of Miguel! Will he, won't he – come back in her life? The novel concludes on a cheerful note though. Let's sayMiguel' is a sad, layered story, easy to read and full of insight into a world gone by in Goa. You must read it!