BAN SOUGHT ON APP-BASED TAXIS!
WHO IS LOOTING WHOM? Goan taxi drivers went on strike on April 8-9, 2021 at Azad Maidan, Panaji to protest against the government backed Goa Miles charging lower fares! They are demanding further increase in their already extortionate ad hoc fares and refusing to meter their taxis. A long suffering public feels cheated even as it waits forever for economical public transportation
The bells toll for Manuel Pereira!
whoever organizes such events in the future , and this is one death ,that could have been avoided , if a little responsibility, and presence of mind was applied .
The best of swimmers can have a cramp or a mishap….therefore , a boat equipped with a diver must be made mandatory , before such events
This was not a swimming race , and its was important that all swimmers ,swam in close proximity of each other , specially, when we are not sure about the swimming prowess of others .
The onlookers or the people filming the event, could have been a little bit more alert, and should have shown some presence of mind , and even could have directed the ferry boat, if they could see , Manuel lagging behind .
In a team effort , we must first ensure , that all swimmers are safe and sound ,
before giving press conferences and bytes. Safety first, glory last.
All these observations are on hind sight, but nothing is going to bring Manuel back
He is gone , just like Fr. Bismarque …life snuffed out ,and body fished out of the river Mandovi.
Their spirit, however , will live on , free, flowing , over the waters , inspiring Goans for years to come .
Rest in Peace …Manuel Pereira!
— Kennedy Afonso, Margao
ALCOHOL METERS IN SHORT SUPPLY?
WHAT a surprise I got yesterday! I asked a traffic policeman in Dona Paula why clearly intoxicated tourists are not been checked for alcohol consumption while riding two-wheelers, as I find them driving recklessly all over Panaji? The reply was that their instruments are not working and if they find someone the law goes against them as proof cannot be given in court. Although all of us know that many of these tourists are causing disturbances, police are helpless.
There is neither CCTV on roads nor alcohol meters. When will our police have the tools they need? It looks like the government has lost control.
— Stephen Dias, Dona Paula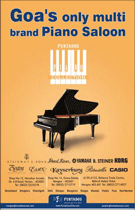 POST-VACCINATION DEATHS
THOUGH by and large the advent of vaccination has brought about relief from covid-19, it is still disturbing that in the UK of the over 18 million so far vaccinated with the AstraZeneca shot, 30 patients developed blood clotting and seven deaths resulted. In Germany too, of the over 2.7 million jabs of the same vaccine that has been administered, 31 cases of blood clotting have resulted in nine fatalities. Though these figures seem small, still they are very significant.
In another unfortunate incident that occurred there was a mix up of AstraZeneca and Johnson & Johnson vaccines in a manufacturing facility in America. Such goof-ups are distressing. However, the bright streak is that the m-RNA Pfizer and Moderna vaccines have lived up to high expectations. Despite these setbacks, all the world leaders, scientists and researchers who directed, developed and implemented the "warp speed" methodology for emergency development of the various vaccines, have to be eulogized for making vaccines available in such prompt and speedy manner.
In hindsight, it should be emphasized that pharmaceutical MNCs around the world should leave no stone unturned in order to with due diligence eliminate side effects to the minimum possible. Looking back the MNCs should feel that they gave their best shot possible to save mankind from this horrible pandemic.
— Elvidio Miranda, Panaji
ATAL SETU WOES
The third Mandovi bridge (Atal Setu) was hurriedly inaugurated on February 5, 2019 but over two years later the bridge is yet to be complete in all respects. There are huge piles of debris lying all over at both ends of the bridge. The wing entering the city at the Panaji end is yet to be completed with the work abandoned for over a year.
With hundreds of crore being spent the government was duty bound to ensure that very rigorous Quality Control Standards were not bypassed in their attempt to hastily complete the bridge. The glaring defects that have so quickly surfaced on this bridge is a matter of concern and disturbing. Let us keep our fingers crossed on the assurance that this bridge would last over 100 years.
The construction may have been entrusted to an otherwise reputed company Larsen & Toubro but a lot of ancillary works having been allocated to petty sub– contractors and the shoddy execution was there for all to see.
Less said the better on that infamous 2014 concretization of the Miramar-Dona Paula Road. We were assured that it would be a state of the art road having a dedicated cycling track. But the end product is there on public display. It has been so poorly and shabbily executed with that promised cycling track nowhere in sight. What we can see today across Goa is also the glaring poor construction of highways and connecting flyovers. All this is unacceptable as taxpayers money should be judiciously spent with quality of public work never compromised with. A successful project is one which can achieve a balance between cost, time, quality and meets the agreed goals of the project. This success can only be achieved with transparency, accountability and zero tolerance to corruption.
The government would be well advised to inaugurate any project only when it is completed in all respects. Also the foundation of any project be laid when the work actually commences. Across Goa we have a gallery of foundation stones rotting for years with not even a brick laid. To ensure that every project is properly and meticulously executed, we need to ensure Quality Control by persons well equipped to technically and administratively monitor and ascertain strict compliance of established standards. There can never be any room or excuse for any substandard construction or a waste of taxpayers' money.
The onus is also on the citizens to be very vigilant about public projects coming up in their neighborhood as ensuring quality, sustainable infrastructure with respect for the environment, is everyone's responsibility.
Quality is never an accident, it is always the result of forward planning and research, sincere effort, intelligent direction, and skilful execution. It represents the wise choice of many alternatives. Great projects require the highest quality output at every stage. Quality is a journey which has to be ensured from the foundation stone till the very completion of any project.
— Aires Rodrigues, Ribandar
GCCI APPEALS!
GREETINGS from the Goa Chamber of Commerce and Industry. After a sustained decline in the number of active covid-19 cases in the country for about five months, we have recently witnessed a fresh surge of cases in Goa.
While government departments and agencies are sparing no effort in trying to control the spread of the pandemic, it is now our responsibility to ensure that covid-appropriate behaviour (including wearing a mask in public/crowded places and observing social distancing norms) is strictly observed by all of us so that the resurgence of the infection can be contained.
We request GCCI members and their families to take the covid vaccine if eligible. I would further request you to encourage your employees and their families to go in for vaccination and extend them whatever help that may required to facilitate the same.
However, even after vaccination there should be no let up in following the covid appropriate behaviour since immunity against covid-19 does not develop immediately after inoculation. The first wave of covid pandemic had a huge adverse impact on our businesses and affected the livelihoods of a large section of our population. So let us do our best to ensure that we control the second wave of the pandemic.
Wear mask, protect yourself and protect others around you. Observe social distancing norms strictly. Get vaccinated. Encourage others to get vaccinated.
— Manoj Caculo, president, GCCI