'Particles', the French-Swiss film directed by Blaise Harrison won the Golden Peacock Award at the 50th International Film Festival of India (left). The Silver Peacock Award for Best Actor went to Seu Jorge for the movie 'Marighella'. Narcos star Wagner Moura, who has directed the movie, collected the award on Jorge's behalf (above)
By Our Special Correspondent
GOA'S golden jubilee International Film Festival of India came to a close with the announcement prize-winning awards and a glitzy entertainment evening at the Dr Shyama Prasad Mukherjee Stadium at Bambolim plateau on November 28, 2019. A spirit of we will meet anew at a bigger, better IFFI next year ruled.
The much coveted Golden Peacock award of 40 lakh for best film went to the French-Swiss filmParticles' (directed by Blasie Harrison, produced by Estelle Fialon). Some expressed surprise that this difficult-to-enjoy film which reduces life to mere force of particles coming together (a science-based theme) with a mundane love story woven in won the award. Many cine viewers confessed they didn't understand Particles' and thought a more sizzling film like Bong Joon-ho's South Korean filmParasite' (also in the International Competition category) might win the award. It was not be.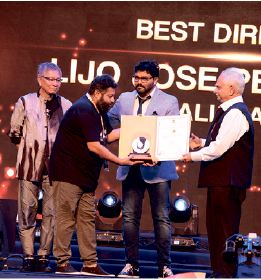 Best director award goes to Lijo Jose Pellissery of Malayalam film Jallikattu' (he won the Silver Peacock award of citation and15 lakh). Best actor (male) is Seu Jorge in Brazilian film Marighella' while best actor (female) is Usha Jadhav for her acting inMai Ghat: Crime No 103/2005' (Marathi film). There was a special jury award for the Chinese film Balloon' (directed by Pema Tseden) and best debut film award was won byMonsters' (directed by Mariyus Olteanu), as also the film About Leila' (directed by Amin Sidi Boumediene). Both Silver Peacock films get certificate of merit and cash prize of10 lakh each. Gujarati film Hellaro' directed by Abhishek Shah got special mention andRwanda' directed by Riccardo Salvetti won the ICFT-UNESCO Gandhi Medal. Sanjay P Singh Chauhan's film Bahattar Hoorain' also got ICFT-UNESCO special mention and the Fellini medal was awarded to the International Film Festival of India for touching its golden jubilee of 50 years in showcasing cinema in India. Then it was over to Chief Minister Pramod Sawant who vowed to improve infrastructure for IFFI in Goa and also turn it into a film shooting destination. Governor of Goa Satya Pal Malik expressed his love for films as also conveyed several messages on the subject of films not always presenting the ground realities of society as they are, he said, "Films have evolved in many ways but they do not always show your what is happening in society." He urged filmmakers to play a more educative role on depicting "crisis in society". He said films must teach you something and expressed his respect for the Kashmiri people. Before the awards were announced members of the international jury for IFFI this year led by John Bailey were felicitated by Deputy Chief Minister Babu Kavlekar and Vice Chairperson ESG Subhash Phaldessai.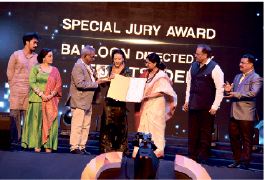 A galaxy of dignitaries took the stage and were in the audience which later appreciated the entertainment comprising ofEk Bharat, Shresht Bharat, a dance performance about the heritage and culture of India, as also a Hariharan performance, he was joined by Leslie Lewis.
Adding fizz to the evening's mood was Minister for State for Environment, Forest and Climate Change Babul Supriyo who sang a few lines of music maestro Illaiyaraaja's song "Ai Zindagi Gale Lagale…" Illaiyaraaja along with others contributing to the entertainment industry were felicitated a little earlier. Since some delegates were anxious to make it to the Kala Academy to catch IFFI's closing film, the Mohsen Makhmalbaf-directed Italian film `Marghe and Her Mother' they left before the show wound up and thus concluded the 50th edition of IFFI in Goa.